​​​​​​​​​​​​​​​​​​​​​​​​​​​​​​​​​​​​​​​​​​​​The Project​
AfricaConnect2 aims to support the development, consolidation and use of high-capacity national and regional research and education networks (NRENs) across Africa and set up​ connections to the pan-European GÉANT network, thus providing the African research and education (R&E) communities with unrivalled opportunities for global collaborations.​
Following a well-mapped path
AfricaConnect2 builds on the achievements of its predecessor project – AfricaConnect – which, between 2011 and 2014, was instrumental in establishing UbuntuNet, a high-capacity data-communications network for research and education communities in Eastern and Southern Africa.
Northern African countries are currently connected to GÉANT thanks to the EUMEDCONNECT project which has provided a regional research and education network for the Southern and Eastern Mediterranean since 2004.
Based on a proven model of building and interconnecting NRENs in regional networks, AfricaConnect2 opens a new chapter in this African success story by extending the scope of its predecessor to a pan-African level.​
​Building on regional collaboration
Recognising the importance of building on the interests and ​consensus of local partners, the project adopts a modular approach adjusted to the specificities of the African sub-regions. AfricaConnect2 therefore comprises three geographical areas (clusters) and involves their respective regional networking organisations: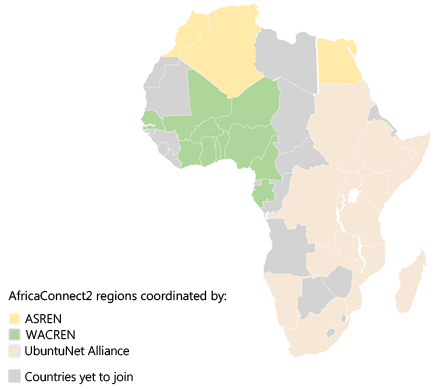 Providing real benefits
By improving access to high-capacity connectivity at national, regional and continental levels, AfricaConnect2 will contribute to socio-economic development and a more inclusive Information Society across Africa.
Whilst the connectivity​ boost will improve the lives of millions of Africans through advanced re​search and educa​​tion, it will equally benefit collaborative scientific resea​​rch the world over, in areas su​ch as climate change, biodiversity, crop research, malaria and other infectious diseases.​​​
​