​​​​​​​​Network​
Current status of African connectivity
The map below provides a snapshot of the connectivity and NREN development status across Africa (as of 1 June 2015). 
Developed by the World Bank, the map is based on a paper by TENET CEO Duncan Greaves on the typical stages of development of NRENs. The three AfricaConnect2 regions are colour-coded, with the colour tones corresponding to the level of development of the NRENs.​
As the project develops, this ''Day 1-African connectivity map'' is expected to evolve and further connectivity updates will be provided.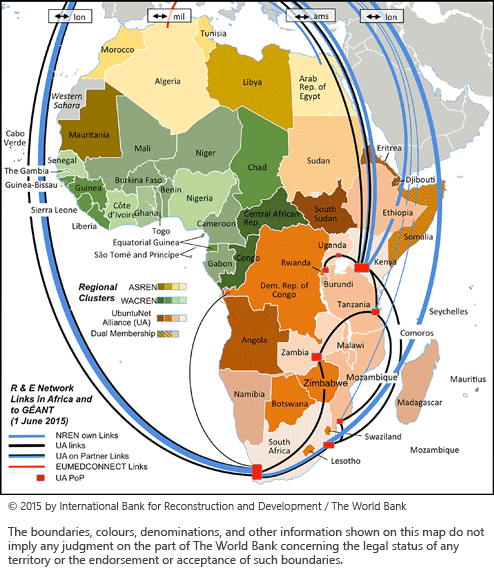 Countries are colour-coded by their regional cluster associations and tinted according to the stage of development of their respective NREN (the lighter the tint the more developed the NREN). Some NRENs are members of two regional clusters: Sudan, Somalia and Djibouti are members of both UbuntuNet Alliance and ASREN.
Research and education network links in Africa and to Europe
Through the procurement and deployment of high-speed internet connections across Eastern and Southern​ Africa, AfricaConnect has significantly added to connectivity already provided by the UbuntuNet network, interlinking existing NRENs in the region and providing additional connectivity between the region and the GÉANT network.
The pan-European​ GÉANT network connects to the UbunuNet network (UA,​ for Ubuntunet Alliance) via the UbuntuNet London and Amsterdam routers providing a 10Gbps link for IP traffic and a 10Gbps link for dedicated point-to-point circuits. 
These links support the increasing traffic of the UbuntuNet Alliance, with NRENs in Kenya (KENET), Mozambique (MoRENet), Rwanda (RwEdNet), South Africa (TENET), Tanzania (TERNET), Uganda (RENU) and Zambia (ZAMREN) currently connected.
Of the four eligible countries in North Africa, Algeria's international connectivity is currently provided via the EUMEDCONNECT3 network, whilst Egypt interconnects with GÉANT directly in Amsterdam.​​